Assault Causing Bodily Harm
Our Location: Toronto, Brampton, Hamilton, Kitchener, Milton, Newmarket, Oshawa, and Vaughan​
What is assault causing bodily harm?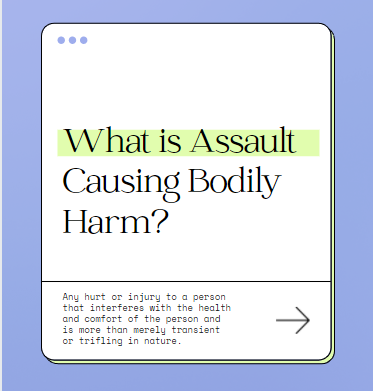 Assault causing bodily harm is a criminal offence in Canada. Assault and assault causing bodily harm are defined under sections 265 and 267 of the Criminal Code of Canada. The causing of "bodily harm" is what distinguishes assault causing bodily harm from common assault.
Although the Criminal Code of Canada does not define "bodily harm", it will include any hurt or injury to a person that interferes with the health and comfort of the person and is more than merely transient or trifling in nature. In McCraw, the court held that bodily harm includes psychological harm. Whether injuries amount to bodily harm is a question of law.
Examples of injuries from which bodily harm results include, fracture of facial bones, temporary vision loss, swollen face, lacerations for a prolonged period.
Do note that if you have also been charged with aggravated assault, it will carry a harsher penalty than assault causing bodily harm as it is a more serious charge. Aggravated assault is committed where the accused wounds, maims, disfigures or endangers the life of the complainant. These types of assault charges will commonly attract a jail sentence, even as a first-time offender.
What is the punishment for assault causing bodily harm in Canada?
The Criminal Code of Canada does not list a minimum sentence for assault causing serious bodily harm. This means that the judge must use his or her discretion to determine what sentence is appropriate, which could include a probation order or jail time.
The penalties for assault causing bodily harm depend on numerous factors such as whether the accused was previously convicted of a similar criminal charge and whether it is a summary or indictable offence. If you are charged with assault causing bodily harm, it is important to contact a criminal lawyer immediately.
The Criminal Code of Canada states that. "Everyone who commits an assault is guilty of (a) an indictable offence and is liable to imprisonment for a term not exceeding five years, or (b) an offence punishable on summary conviction."
Different Types of Assault Charges under the Criminal Code (Summary & Indictable Offence):
The severity of assault can range depending on factors such as caused injury, whether a weapon was used in committing the assault, whether the assault caused bodily harm and whether the assault was committed by someone known to the victim such as a family member.
Assault Causing Bodily Harm
Assault with a weapon
Aggravated assault
Is a criminal defence lawyer required?
If you are charged with an offence, it is important to contact a criminal defence lawyer immediately. A criminal lawyer can help you navigate the criminal court process and ensure that your rights are protected at each step of the criminal justice process. Although you are not required to retain a criminal lawyer, the assistance of one can greatly help you understand your rights and help you avoid a criminal record.
The criminal court process can be complex and confusing especially if you have no experience with the courts. A criminal lawyer will ensure that your rights are protected by making procedural and evidentiary decisions. Criminal lawyers can also help in building a defence and assessing the strength of evidence against you.
If you have been charged with assault causing bodily harm, contact an experienced criminal lawyer for a free consultation.